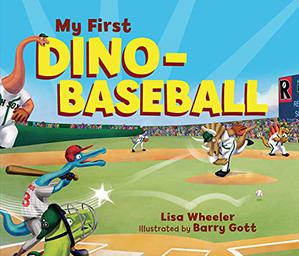 MY FIRST DINO-BASEBALL | Kirkus Reviews
;
illustrated by

Jay Fleck

‧
RELEASE DATE: Dec. 29, 2020
Even when well-intended plans go awry, sometimes "I love you" is plastered all over one's face.
Tiny T. Rex wants to make the perfect valentine for friend Pointy, a stegosaurus. It's a noble ideal, but perfection is more elusive than the little theropod realized. That's the premise of this charming board book that succinctly celebrates love, friendship, aspiration, perseverance, limitations, and the notion that it's the thought that counts—especially when it's clearly reflected in effort. Like its protagonist, this book is small, but it's rich in value and works on every level. The artwork has an elegant simplicity that beautifully balances color, personality, and clever detail. A panel of Tiny designing the card in chalk on a blackboard, for example, reveals the scale of the little dino's intentions: a giant heart, ribbons, smaller hearts dangling from springs, heart-shaped balloons, and fireworks, all much larger than Tiny. The project is clearly a labor of love: Tiny sweats, tugging a bucket of paint—"Pointy's favorite color!"—but the bucket spills on the artist, not the valentine. Trying to make the card "extra fancy," Tiny is covered in glitter. Tiny rips, snips, and rerips, trying to make the perfect heart; misspells Pointy; and glues springs and hearts all over everything. When Tiny apologizes for having no valentine for Pointy, Pointy recognizes immediately that the perfect valentine is a friend like Tiny.
A sweet reminder that love is best measured in actions.
(Board book. 1-5)
Pub Date: Dec. 29, 2020
ISBN: 978-1-4521-8489-0
Page Count: 18
Publisher: Chronicle Books
Review Posted Online: Jan. 27, 2021
Kirkus Reviews Issue: Feb. 15, 2021
Did you like this book?