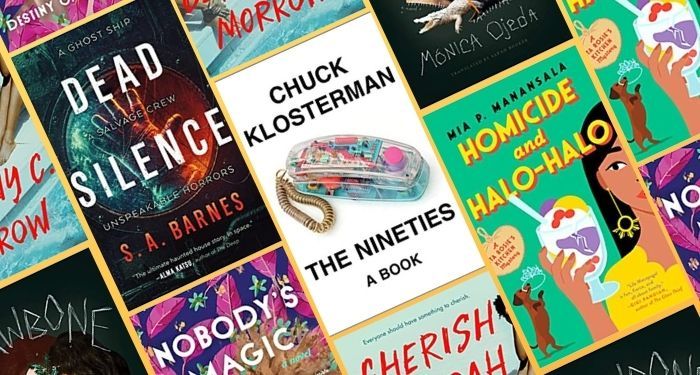 New Releases Tuesday: The Best Books Out This Week
It's Tuesday, which means it's time for a new batch of book releases! Here are a few of the books out today you should add to your TBR. This is a very small percentage of the new releases this week, as well as a few others you may have missed from recent weeks. Make sure to stick around until the end for some more Book Riot resources for keeping up with new books. The book descriptions listed are the publisher's, unless otherwise noted.
Seventeen-year-old Farrah Turner is one of two Black girls in her country club community, and the only one with Black parents. Her best friend, Cherish Whitman, adopted by a white, wealthy family, is something Farrah likes to call WGS–White Girl Spoiled. With Brianne and Jerry Whitman as parents, Cherish is given the kind of adoration and coddling that even upper-class Black parents can't seem to afford–and it creates a dissonance in her best friend that Farrah can exploit. When her own family is unexpectedly confronted with foreclosure, the calculating Farrah is determined to reassert the control she's convinced she's always had over her life by staying with Cherish, the only person she loves–even when she hates her.
As troubled Farrah manipulates her way further into the Whitman family, the longer she stays, the more her own parents suggest that something is wrong in the Whitman house. She might trust them–if they didn't think something was wrong with Farrah, too. When strange things start happening at the Whitman household–debilitating illnesses, upsetting fever dreams, an inexplicable tension with Cherish's hotheaded boyfriend, and a mysterious journal that seems to keep track of what is happening to Farrah–it's nothing she can't handle. But soon everything begins to unravel when the Whitmans invite Farrah closer, and it's anyone's guess who is really in control.
Told in Farrah's chilling, unforgettable voice and weaving in searing commentary on race and class, this slow-burn social horror will keep you on the edge of your seat until the last page.
Reasons to read it: This is one of the Black-led thrillers whose Get Out comparison is actually fitting. The thrills offered up here are both psychological and socially relevant, and will stay with you long after finishing. The characters are complex and nuanced, if not flat out unlikeable at times. This is a slow-burning, dark read that has also been likened to My Sister, the Serial Killer.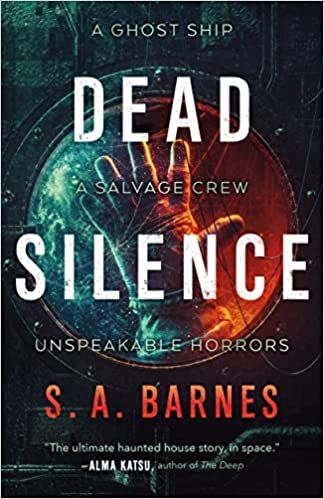 Titanic meets The Shining in S.A. Barnes' Dead Silence, a SF horror novel in which a woman and her crew board a decades-lost luxury cruiser and find the wreckage of a nightmare that hasn't yet ended.
A GHOST SHIP.
A SALVAGE CREW.
UNSPEAKABLE HORRORS.
Claire Kovalik is days away from being unemployed—made obsolete—when her beacon repair crew picks up a strange distress signal. With nothing to lose and no desire to return to Earth, Claire and her team decide to investigate.
What they find at the other end of the signal is a shock: the Aurora, a famous luxury space-liner that vanished on its maiden tour of the solar system more than twenty years ago. A salvage claim like this could set Claire and her crew up for life. But a quick trip through the Aurora reveals something isn't right.
Whispers in the dark. Flickers of movement. Words scrawled in blood. Claire must fight to hold onto her sanity and find out what really happened on the Aurora, before she and her crew meet the same ghastly fate.
Reasons to read it: Titanic meets The Shining is one hell of a way to describe a book, and this delivers on all counts. This iteration of the abandoned ship trope is action-packed, super creepy, and "truly un-put-downable in its purest sense," according to author Chloe Gong. Claire as a complicated main character adds to the thrilling narrative, as she doesn't always trust her senses. Get ready to be taken on a spooky space ride with unexpected twists!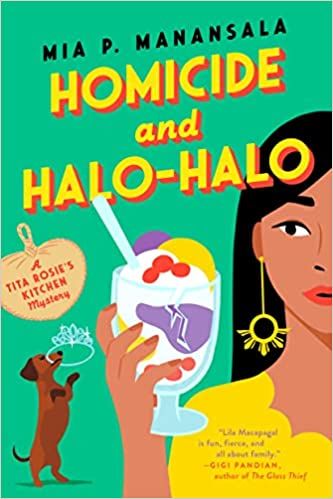 Things are heating up for Lila Macapagal. Not in her love life, which she insists on keeping nonexistent despite the attention of two very eligible bachelors. Or her professional life, since she can't bring herself to open her new cafe after the unpleasantness that occurred a few months ago at her aunt's Filipino restaurant, Tita Rosie's Kitchen. No, things are heating up quite literally, since summer, her least favorite season, has just started.
To add to her feelings of sticky unease, Lila's little town of Shady Palms has resurrected the Miss Teen Shady Palms Beauty Pageant, which she won many years ago–a fact that serves as a wedge between Lila and her cousin slash rival, Bernadette. But when the head judge of the pageant is murdered and Bernadette becomes the main suspect, the two must put aside their differences and solve the case–because it looks like one of them might be next.
Reasons to read it: Like your murders cozy with a side of dessert? Welcome back to Manansala's world of Shady Palms for this second installment of her cozy mystery series. Fans of the first in the Tita Rosie's Kitchen Mystery series, Arsenic and Adobo, will love the now-familiar fun mystery and mouth watering images of food Manansala concocts. The frenemies-forced-to-work-together trope, the romance, and some character development help to round out this super cute cozy mystery.
It was long ago, but not as long as it seems: The Berlin Wall fell and the Twin Towers collapsed. In between, one presidential election was allegedly decided by Ross Perot while another was plausibly decided by Ralph Nader. In the beginning, almost every name and address was listed in a phone book, and everyone answered their landlines because you didn't know who it was. By the end, exposing someone's address was an act of emotional violence, and nobody picked up their new cell phone if they didn't know who it was. The 90s brought about a revolution in the human condition we're still groping to understand. Happily, Chuck Klosterman is more than up to the job.
Beyond epiphenomena like Cop Killer and Titanic and Zima, there were wholesale shifts in how society was perceived: the rise of the internet, pre-9/11 politics, and the paradoxical belief that nothing was more humiliating than trying too hard. Pop culture accelerated without the aid of a machine that remembered everything, generating an odd comfort in never being certain about anything. On a 90's Thursday night, more people watched any random episode of Seinfeld than the finale of Game of Thrones.But nobody thought that was important; if you missed it, you simply missed it. It was the last era that held to the idea of a true, hegemonic mainstream before it all began to fracture, whether you found a home in it or defined yourself against it.
In The Nineties, Chuck Klosterman makes a home in all of it: the film, the music, the sports, the TV, the politics, the changes regarding race and class and sexuality, the yin/yang of Oprah and Alan Greenspan. In perhaps no other book ever written would a sentence like, "The video for 'Smells Like Teen Spirit' was not more consequential than the reunification of Germany" make complete sense. Chuck Klosterman has written a multi-dimensional masterpiece, a work of synthesis so smart and delightful that future historians might well refer to this entire period as Klostermanian.
Reasons to read it: When you're ready to come to grips with the fact that the '90s were more than just ten years ago, pick this up. Many readers will find it interesting to compare whatever memories of the time period they have with the neutral, but still engaging account Klosterman offers here. He puts pop culture, politics, history, and the zeitgeist all in context. We may still hold on to the right to reject referring to anything '90's-focused as "historical," though.
Jawbone by Mónica Ojeda
Fernanda and Annelise are so close they are practically sisters: a double image, inseparable. So how does Fernanda end up bound on the floor of a deserted cabin, held hostage by one of her teachers and estranged from Annelise?
When Fernanda, Annelise, and their friends from the Delta Bilingual Academy convene after school, Annelise leads them in thrilling but increasingly dangerous rituals to a rhinestoned, Dior-scented, drag-queen god of her own invention. Even more perilous is the secret Annelise and Fernanda share, rooted in a dare in which violence meets love. Meanwhile, their literature teacher Miss Clara, who is obsessed with imitating her dead mother, struggles to preserve her deteriorating sanity. Each day she edges nearer to a total break with reality.
Interweaving pop culture references and horror concepts drawn from Herman Melville, H. P. Lovecraft, and anonymous "creepypastas," Jawbone is an ominous, multivocal novel that explores the terror inherent in the pure potentiality of adolescence and the fine line between desire and fear.
Reasons to read it: Ecuadorian author Ojeda serves up a trippy story that combines old school horror elements with the modern-day "folklore" of creepypastas. Budding sexuality, as well as just how twisted female relationships can be — be they familial or school based — are explored here, and the lines between villains and victims are blurred.
In this glittering triptych novel, Suzette, Maple and Agnes, three Black women with albinism, call Shreveport, Louisiana home. At the bustling crossroads of the American South and Southwest, these three women find themselves at the crossroads of their own lives.
Suzette, a pampered twenty-year‑old, has been sheltered from the outside world since a dangerous childhood encounter. Now, a budding romance with a sweet mechanic allows Suzette to seek independence, which unleashes dark reactions in those closest to her. In discovering her autonomy, Suzette is forced to decide what she is willing to sacrifice in order to make her own way in the world.
Maple is reeling from the unsolved murder of her free‑spirited mother. She flees the media circus and her judgmental grandmother by shutting herself off from the world in a spare room of the motel where she works. One night, at a party, Maple connects with Chad, someone who may understand her pain more than she realizes, and she discovers that the key to her mother's death may be within her reach.
Agnes is far from home, working yet another mind‑numbing job. She attracts the interest of a lonely security guard and army veteran who's looking for a traditional life for himself and his young son. He's convinced that she wields a certain "magic," but Agnes soon unleashes a power within herself that will shock them both and send her on a trip to confront not only her family and her past, but also herself.
This novel, told in three parts, is a searing meditation on grief, female strength, and self‑discovery set against a backdrop of complicated social and racial histories. Nobody's Magic is a testament to the power of family—the ones you're born in and the ones you choose. And in these three narratives, among the yearning and loss, each of these women may find a seed of hope for the future.
Reasons to read it: The three parts of this book tell not only different perspectives of Black American womanhood, but also what it's like to be albino and Black at the same time. The characters personalities are so distinct and written so realistically, you'll feel like you've been invited into a friend's life, and you're rooting for them to make it. The Secret Lives of Church Ladies author Deesha Philyaw has called it "a devastatingly beautiful, sexy, searing gift."
Other Book Riot New Releases Resources
All the Books, our weekly new releases podcast, where Liberty and a cast of co-hosts talk about eight books out that week that we've read and loved.
The New Books Newsletter, where we send you an email of the books out this week that are getting buzz.
Finally, if you want the real inside scoop on new releases, you have to check out Book Riot Insiders' New Releases Index! That's where I find 90% of new releases, and you can filter by trending books, Rioters' picks, and even LGBTQ new releases!