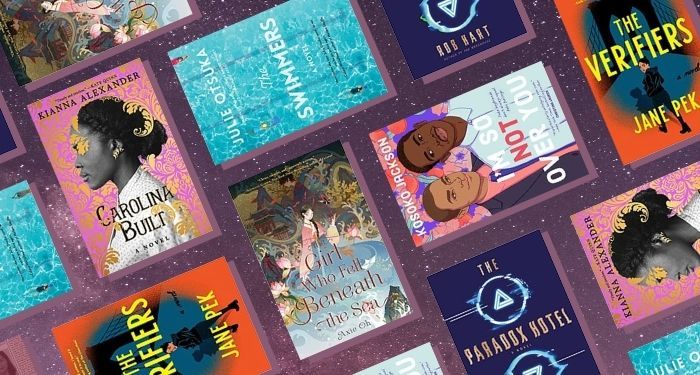 New Releases Tuesday: The Best Books Out This Week | Book Riot
It's Tuesday, which means it's time for a new batch of book releases! Here are a few of the books out today you should add to your TBR. This is a very small percentage of the new releases this week, as well as a few others you may have missed from recent weeks. Make sure to stick around until the end for some more Book Riot resources for keeping up with new books. The book descriptions listed are the publisher's, unless otherwise noted.
It's been months since aspiring journalist Kian Andrews has heard from his ex-boyfriend, Hudson Rivers, but an urgent text has them meeting at a café. Maybe Hudson wants to profusely apologize for the breakup. Or confess his undying love. . . But no, Hudson has a favor to ask—he wants Kian to pretend to be his boyfriend while his parents are in town, and Kian reluctantly agrees.
The dinner doesn't go exactly as planned, and suddenly Kian is Hudson's plus one to Georgia's wedding of the season. Hudson comes from a wealthy family where reputation is everything, and he really can't afford another mistake. If Kian goes, he'll help Hudson preserve appearances and get the opportunity to rub shoulders with some of the biggest names in media. This could be the big career break Kian needs.
But their fake relationship is starting to feel like it might be more than a means to an end, and it's time for both men to fact-check their feelings.
Reasons to read it: This is a delightful fake dating romance that is as sweet as it is sexy. Hudson serves as the southern gentlemen love interest to Kian's self-critical, blunt (sometimes overly so), anxious protagonist. The woman characters in here are so well written, you'll want them in your corner irl. Such a fun M/M romance!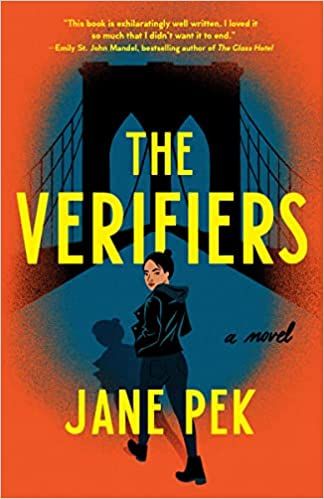 Claudia is used to disregarding her fractious family's model-minority expectations: she has no interest in finding either a conventional career or a nice Chinese boy. She's also used to keeping secrets from them, such as that she prefers girls—and that she's just been stealth-recruited by Veracity, a referrals-only online-dating detective agency.
A lifelong mystery reader who wrote her senior thesis on Jane Austen, Claudia believes she's landed her ideal job. But when a client vanishes, Claudia breaks protocol to investigate—and uncovers a maelstrom of personal and corporate deceit. Part literary mystery, part family story, The Verifiers is a clever and incisive examination of how technology shapes our choices, and the nature of romantic love in the digital age.
Reasons to read it: In a world full of online dating and constant catfish, the idea of an online dating detective agency sounds pretty realistic. It, along with Claudia's wit, are certainly a great source of humor throughout the book as she conveniently navigates the law to get to the bottom of the books mystery. This is an all around interesting mystery that doesn't sacrifice characterization for plot.
Deadly storms have ravaged Mina's homeland for generations. Floods sweep away entire villages, while bloody wars are waged over the few remaining resources. Her people believe the Sea God, once their protector, now curses them with death and despair. In an attempt to appease him, each year a beautiful maiden is thrown into the sea to serve as the Sea God's bride, in the hopes that one day the "true bride" will be chosen and end the suffering.
Many believe that Shim Cheong, the most beautiful girl in the village—and the beloved of Mina's older brother Joon—may be the legendary true bride. But on the night Cheong is to be sacrificed, Joon follows Cheong out to sea, even knowing that to interfere is a death sentence. To save her brother, Mina throws herself into the water in Cheong's stead.
Swept away to the Spirit Realm, a magical city of lesser gods and mythical beasts, Mina seeks out the Sea God, only to find him caught in an enchanted sleep. With the help of a mysterious young man named Shin—as well as a motley crew of demons, gods and spirits—Mina sets out to wake the Sea God and bring an end to the killer storms once and for all.
But she doesn't have much time: A human cannot live long in the land of the spirits. And there are those who would do anything to keep the Sea God from waking…
Reasons to read it: If the cover isn't enough to convince you to read this, then maybe the fact that it's got major Spirited Away vibes will. And then there's the lush spirit world that's been inspired by Korean mythology. You'll be fully enmeshed in the magical quest and routing for the brave heroine. Chloe Gong, author of These Violent Delights, described it as "a tale brimming with love. The Girl Who Fell Beneath the Sea will whisk you away on an entrancing journey through the most magical realm."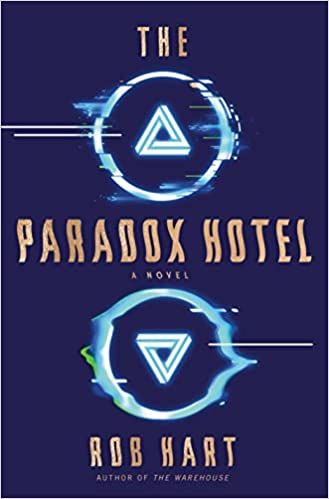 For someone with January Cole's background, running security at a fancy hotel shouldn't be much of a challenge.
Except the Paradox is no ordinary hotel. Here, the ultra-wealthy guests are costumed for a dozen different time periods, all anxiously waiting to catch their "flights" to the past. And proximity to the timeport makes for an interesting stay. The clocks run backward on occasion—and, rumor has it, ghosts stroll the halls.
Now, January's job is about to get a whole lot harder. Because the U.S. government is getting ready to privatize time-travel technology—and a handful of trillionaires have just arrived to put down their bids.
And there's a murderer on the loose.
Or at least that's what January suspects. Except the corpse in question is one that somehow only she can see. And the accidents stalking their prestigious guests . . . well, the only way a killer could engineer those is by operating invisibly and in plain sight, all at once. Which is surely impossible.
There's a reason January can glimpse what others can't. But her ability is also destroying her grip on reality—and forcing her to confront secrets of her own.
Because here at the Paradox Hotel, the past is waiting around every corner.
At once a dazzlingly time-twisting murder mystery and a story about grief, memory, and what it means to—literally—come face-to-face with our ghosts, The Paradox Hotel is another unforgettable speculative thrill ride from acclaimed author Rob Hart.
Reasons to read it: The premise is interesting, original, and totally trippy. Hart manages to work in philosophy and a dissection of classism while giving a really intriguing mystery being solved by an unreliable narrator. Between the time jumps, rich parties with motive, and a narrator whose mind slips throughout, get ready for this sci-fi whodunit to keep you on your toes.
The swimmers are unknown to one another except through their private routines (slow lane, medium lane, fast lane) and the solace each takes in their morning or afternoon laps. But when a crack appears at the bottom of the pool, they are cast out into an unforgiving world without comfort or relief.
One of these swimmers is Alice, who is slowly losing her memory. For Alice, the pool was a final stand against the darkness of her encroaching dementia. Without the fellowship of other swimmers and the routine of her daily laps she is plunged into dislocation and chaos, swept into memories of her childhood and the Japanese American incarceration camp in which she spent the war. Alice's estranged daughter, reentering her mother's life too late, witnesses her stark and devastating decline. Written in spellbinding, incantatory prose, The Swimmers is a searing, intimate story of mothers and daughters, and the sorrows of implacable loss: the most commanding and unforgettable work yet from a modern master.
Reasons to read it: Otsuka introduces the swimmers to us as we might see strangers in our neighborhood. They're acknowledged, we expect they have lives outside of the context of our meeting them, but we don't ultimately know them. Adding to this feeling of detachment is how the first part of the novel reads as a social comedy, with the crack serving as a metaphor that could be several things. Once the perspective shifts to being specifically about Alice, the mood is suddenly more heartrending as Alice begins to fade away into dementia alongside a writer daughter who shares many similarities with Otsuka.
Josephine N. Leary is determined to build a life of her own and a future for her family. When she moves to Edenton, North Carolina from the plantation where she was born, she is free, newly married, and ready to follow her dreams.
As the demands of life pull Josephine's attention away, it becomes increasingly difficult for her to pursue her real estate aspirations. She finds herself immersed in deepening her marriage, mothering her daughters, and being a dutiful daughter and granddaughter. Still, she manages to teach herself to be a businesswoman, to manage her finances, and to make smart investments in the local real estate market. But with each passing year, it grows more and more difficult to focus on building her legacy from the ground up.
"Filled with passion and perseverance, Josephine Leary is frankly a woman that everyone should know" (Sadeqa Johnson, author of Yellow Wife) and her story speaks to the part of us that dares to dream bigger, tear down whatever stands in our way, and build something better for the loved ones we leave behind.
Reasons to read it: This is the fictional account of the very real Josephine Napoleon Leary who was born into slavery and freed when she was 9. Although fictional, this book will serve to educate on a figure in history that isn't often highlighted. Leary became the first Black woman in North Carolina to be a real estate entrepreneur in the South in the late 19th century. Can you say "Black Girl Magic?"
Other Book Riot New Releases Resources
All the Books, our weekly new releases podcast, where Liberty and a cast of co-hosts talk about eight books out that week that we've read and loved.
The New Books Newsletter, where we send you an email of the books out this week that are getting buzz.
Finally, if you want the real inside scoop on new releases, you have to check out Book Riot Insiders' New Releases Index! That's where I find 90% of new releases, and you can filter by trending books, Rioters' picks, and even LGBTQ new releases!